Breadcrumb Trail Links
Opinion
Columnists
Private clinics and the governments that contract them to scale back backlogs have very different and competing priorities.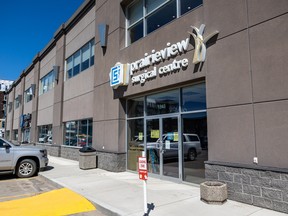 Prairieview Surgical centre is owned by Calgary-based Surgical Centres Inc., which has recently retained former Saskatchewan Party cabinet minister Kevin Doherty to lobby the federal government. Saskatchewan is planning to strike a take care of one other private surgery company to assist the province work through an extended backlog of delayed surgical procedures. Photo taken in Saskatoon, SK on Tuesday, May 31, 2022. Photo by Matt Smith /Saskatoon StarPhoenix
Article content
Surgical waitlists have skyrocketed throughout the pandemic. Privately owned surgical centres are desperate to take a few of the workload. Several governments consider them essential to reducing the backlogs.
Commercial 2
This commercial has not loaded yet, but your article continues below.
Article content
Are contracts with private clinics a very good deal for medicare? First, consider what each party is after.
Governments want private clinics to satisfy variable and unpredictable needs without having to take care of everlasting public system capability. Private clinics want long-term contracts for guaranteed numbers of procedures to justify investing in buildings, equipment and staff.
Governments desire a low price, actually no higher than what it pays of their its facilities. Private clinics want the very best possible price to generate the most important profit.
Governments want private clinics to do whatever is required when it is required. Private clinics wish to do only high-volume, low-risk procedures, because variety and complexity increase their costs.
Governments don't want private clinics to siphon off key personnel from the general public system. Private clinics thrive after they do, because governments need to depend upon them much more.
Governments want competition amongst private clinics to strengthen their bargaining power on price and other terms. Private clinics seek uncompetitive markets with a history of poor wait times management to strengthen their bargaining power.
Each parties are, then, self-interested negotiators: Governments on behalf of the residents, clinics on behalf of their shareholders. Is a win-win possible under present circumstances?
For the surgeries typically contracted out — orthopaedics, cataracts — needs are highly predictable. The present backlogs aren't the results of a sudden spike in wobbly knees. COVID took over hospitals and doctors and nurses were either sidelined or redeployed to take care of non-surgical needs.
Commercial 3
This commercial has not loaded yet, but your article continues below.
Article content
Private clinics rarely add beds to the system; that will make them boutique hospitals, an order of magnitude costlier and complex to create and operate.
Their sweet spot is same-day surgery, also done in public hospitals. In a hospital, operating rooms and major diagnostic equipment may be idle much of the time. So often, same-day surgical capability is restricted not by the physical plant, but staff availability or budget caps.
Public facilities and personal clinics compete for a similar providers. There's no large surplus pool of doctors, nurses and technicians to rent on short notice. Do major commitments to non-public clinics compromise capability in the general public system?
The logic and math say yes. If the private clinics are staffed by moonlighting doctors and nurses, they may also moonlight in the general public system. That's a tricky sell.
Private clinics can offer physicians more and easier money, free them from competing operating time in public hospitals, no call in the midst of the night, no cancelled slates to take care of emergencies. It's low-stress, mainly routine work.
For operating room nurses and other support staff, the allure is regular work hours, less stress and possibly extra money.
Some surgeons will find yourself entirely within the private clinics and do only routine procedures. Ophthalmologists with nine years of coaching will just do cataracts, not available to take care of more serious and complicated eye problems.
Commercial 4
This commercial has not loaded yet, but your article continues below.
Article content
The clinics may have guaranteed business, so good luck repatriating staff to the general public system in a state of emergency if the contracts are guaranteed.
Can private clinics do the procedures cheaper? The labour and equipment aren't cheaper. The value has to construct in a healthy profit margin. It could be ultra-efficient to do assembly-line work in single-purpose clinics.
In that case, governments could construct and operate them in the general public system. There's no free lunch in not constructing them; governments pay for the private clinic infrastructure in the shape of a facility fee built into the contracts.
That is an accounting query. Governments should make the contracts public, with transparent cost comparisons subject to independent audit. The private clinics do uncomplicated work in pressure-free settings, and the worth needs to be discounted accordingly.
Patients are suffering and governments are floundering. It's not hard to see why they'd search for any capability to wrestle alarming wait times down. But as an extended term proposition, it's hard to see how contracting out routine, medically mandatory work advantages medicare.
It entrenches dependency on profit-seekers, rewards surgeons for abandoning complex and stressful public system work, and privileges surgical needs over other kinds of care.
The Canadian system has suffered from fragmentation and making a separate track for a core service can only make it worse. Before declaring the private clinic horse a present, be sure that it's not from Troy.
Commercial 5
This commercial has not loaded yet, but your article continues below.
Article content
Steven Lewis spent 45 years as a health policy analyst and health researcher in Saskatchewan and is currently adjunct professor of health policy at Simon Fraser University. He may be reached at slewistoon1@gmail.com.



Lewis: Improvisation needed to satisfy Canada's health-care challenges




Lewis: 4 lessons for the following pandemic
Need to know the way we determine what to cover and the way editorial decisions are made on the Saskatoon StarPhoenix and Regina Leader-Post? Get the weekly Letter From the Editor newsletter from the Editor in Chief Russell Wangersky and join the discussion on what goes into covering news and delivering commentary, each in print and online. Click here to subscribe.
Share this text in your social network
Commercial 1
This commercial has not loaded yet, but your article continues below.
Regina Leader Post Headline News
By clicking on the join button you consent to receive the above newsletter from Postmedia Network Inc. It's possible you'll unsubscribe any time by clicking on the unsubscribe link at the underside of our emails. Postmedia Network Inc. | 365 Bloor Street East, Toronto, Ontario, M4W 3L4 | 416-383-2300
Thanks for signing up!
Comments
Postmedia is committed to maintaining a vigorous but civil forum for discussion and encourage all readers to share their views on our articles. Comments may take as much as an hour for moderation before appearing on the location. We ask you to maintain your comments relevant and respectful. Now we have enabled email notifications—you'll now receive an email should you receive a reply to your comment, there may be an update to a comment thread you follow or if a user you follow comments. Visit our Community Guidelines for more information and details on find out how to adjust your email settings.